Pegasus is the name Ceres Tauri gave his new starship before attempting to leave the pirate asteroid base Valhalla. The starship's prior name was Wanderlust. Serenity O'Share said the owners and crew were all spaced by the pirate henchman Trok. Will Ceres and Serenity check for next of kin if they manage to escape the pirates and return to the Periphery Sector?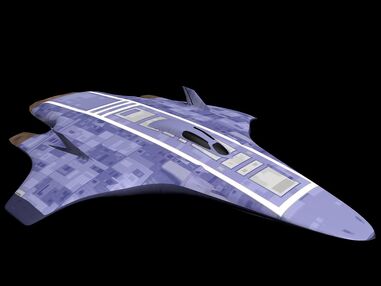 Pegasus is a Halberd Class 2500 F/L, for Freighter/Liner. Such a craft is often used as the personal luxury transport for a wealthy businessman or family as they travel their sector. Compared to the Liner version, the F/L is wider and includes fewer cabins, making cargo space for storing the businessman's trade goods or the family's clothing, etc.
Pegasus is undergoing a repaint. Impressionist artist Kangee redid the underside before the crew attempted to leave A-Valhalla. The ship's belly now features a giant mural of her namesake mythical beast.