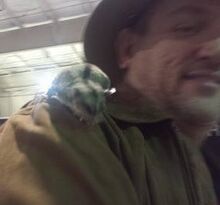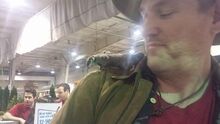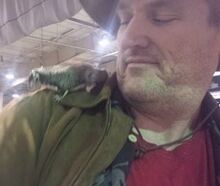 Peanut is a primate animal, half Sugar-Glider/half Lemur. Ceres' friend Iron may have semi-domesticated Peanut by feeding him on the planet Hunan IV in the Asiana Sector.
Peanut's family was heard in the trees but never seen by Iron or any of the residents and staff of Win Tao Do'jo. When touring the woods, Ceres and Iron would toss peanuts and other food for Peanut to catch. The creature did so in the most acrobatic manner, entertaining the student's with his crazy stunts.
Peanut has wing-flaps of skin connecting his wrists, ankles and ribs, enabling him to glide for long distances in the gravity of the small planet.
After the events detailed in CERES 2525, Peanut's whereabouts remain unknown. If you have sighted the darn critter please inform his handler post haste.
[*If you would like to see more of Peanut or his kin in future volumes of Ceres' Stories (tm), message his Earth contact, author Micheal Lee Nelson, via the WetNet.]
Ad blocker interference detected!
Wikia is a free-to-use site that makes money from advertising. We have a modified experience for viewers using ad blockers

Wikia is not accessible if you've made further modifications. Remove the custom ad blocker rule(s) and the page will load as expected.